Our Panama oceanfront community at the Lost Coast is built around a love of nature and all the abundance of these Pacific coastal lands. Here you are literally on the doorstep of the legendary fishing grounds that have earned Panama a world-wide reputation as the destination of choice for serious anglers and divers. From here you are a blissfully short run to the rich waters surrounding the islands of Paridas, Montuosa, Coiba, Ladrones and Secas. And a short distance beyond are the famed waters of the Hannibal Bank—the legendary record-shattering drop off of Panama's Pacific coast.
Our commitment to the environment includes a promise to keep at least half of our acres green and natural, so if you are a landlubber, you will have ample room to wander, hike the hills and the beaches, listen to our resident monkeys, or ride miles of trails on your horse. Our stables are centrally located amidst the mango and cashew groves near our guest cottages and make a wonderful place for even non-riders to stop and visit our four-legged residents there. A Panama oceanfront community with this much space and this much natural beauty is a rare jewel.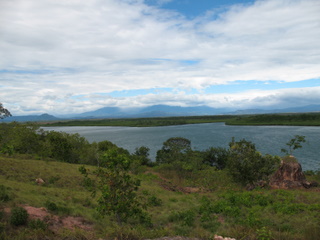 Many Panama oceanfront communities are merely a developer's dream—some beautiful sketches on a skillful artist's pad. But here at the Lost Coast, that dream is a reality. Roads, infrastructure, a port with launch ramp and boat storage, stables, boutique hotel and restaurant with infinity pool, guest cottages and, best of all, luxury homes with friendly neighbors are all here waiting to welcome you home.
Residents enjoy a lifestyle in our Panama oceanfront community unique and unrivalled with the ultimate in privacy and security but without isolation and easily accessible by land or sea. Only fifty minutes drive from David's Enriquie Malek Airport over excellent roads. An hour by boat from Pedgregal Marina through some of the lushest landscapes on the planet will also deliver you to your doorstep.
Take a look at some more photos of the Lost Coast Community...
---
Buying Real Estate in Panama

Copyright © 2009 Buying Real Estate In Panama All Rights Reserved